How to Use PowerPoint Design Ideas and How to Implement Them
Mar 01, 2022
You have all the information you want to add to your presentation. Your knowledge on the subject is unrivaled, and you are prepared to answer any questions that might get thrown at you.
But you have zero design ideas, and your presentation looks dull and uninspiring.
This problem is common and leads to many presentations never reaching their full potential. The audience becomes bored and disengaged by your bland PowerPoint design and weak slide layouts.
But this scenario doesn't have to occur. You can create a PowerPoint presentation full of design ideas and interesting slide layouts that grab your audience's attention.
This article will show you how to become an elite PowerPoint designer using the PowerPoint Design Ideas feature. All of these tips also work for PowerPoint online.
For the very best PowerPoint designs, though, check out these amazing pre-made templates!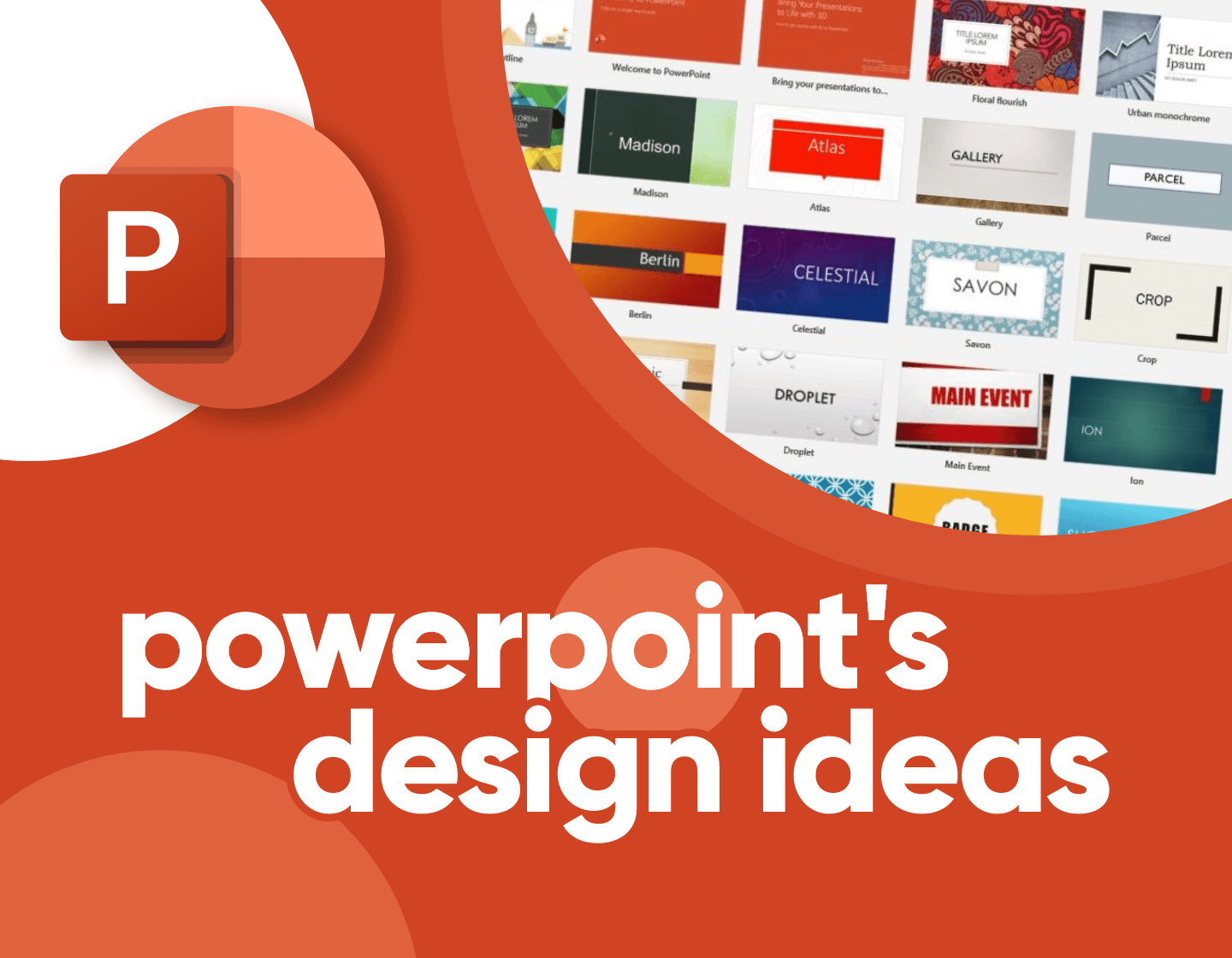 Frequently Asked PowerPoint Presentation Design Questions
How do I become a top-level PowerPoint designer?
To become an elite PowerPoint designer, be sure to pick a theme for your presentation and ensure that each slide references that theme. The easiest way to do this is to get a template to start with and add your design ideas from there.
Is there a design ideas feature within PowerPoint?
Yes, there is! There is a tool within PowerPoint that offers you design inspiration suggestions that you can choose from to freshen up your blank presentation quickly.
How do I enable design ideas in PowerPoint?
Open your PowerPoint presentation

Go to the File Menu

Select Options

Switch to the General tab

Turn on design suggestions from the design ideas tab
How do I find design ideas in PowerPoint?
For the design tab to appear and show you design ideas, select Design, then Design Ideas from the Ribbon. Once the design ideas tool gets set up, PowerPoint will show you design elements that you can consider adding to your presentation.
For the best PowerPoint design, though, check out some of the great PowerPoint templates on offer here. While the designer feature is certainly helpful, having fully prepared unique PowerPoint templates at your disposal will let you create unique PowerPoint presentations that catch the eye of your audience.
Why is PowerPoint not giving me design ideas?
If you can see the Design Ideas tool button in Microsoft PowerPoint, but it is greyed out, it means you do not have to access a stable internet connection. Another possibility might be that you do not have a single slide selected. If you have several slides selected from the slide thumbnail, you will not be able to use PowerPoint designer.
How to Use PowerPoint Design Ideas
Step 1: Head to PowerPoint Design Ideas
To start, you need to ensure that PowerPoint design ideas are enabled in your PowerPoint preferences. Select Design, then Design Ideas on the ribbon to enable the design ideas tool.
Step 2: Turn on PowerPoint Designer
Once you have located PowerPoint design ideas, if it is the first time you have tried to use this feature, you will be asked for permission to turn on design ideas. Select Turn on.
Now that you have switched on "connected experiences," PowerPoint will show you design ideas as you create your slides. Over time, PowerPoint notes what you like and don't like and will offer many new ideas for the same slide for you to choose from.
Step 3: Selecting the Perfect Design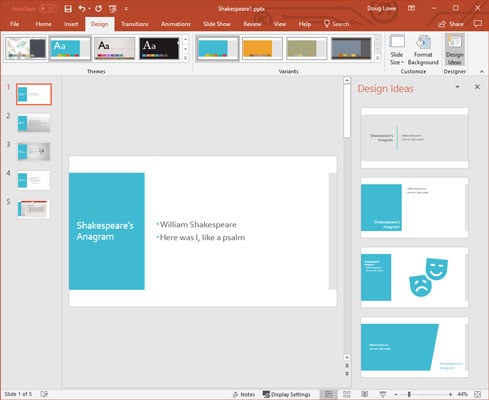 Skim through your suggested design ideas and design trends from the right-hand side.
Choose the right design you want, or dismiss the options and undertake your design process. If you choose one of the designs, all the slides will change, even if it is a new blank document.
Step 4: Changing Designs
If you decide to change your PowerPoint design template, don't worry. You don't need to start a new presentation! Choose from one of the other design ideas from the pane, or revert to your blank slide.
Why PowerPoint Design is so Important
Visually Engaging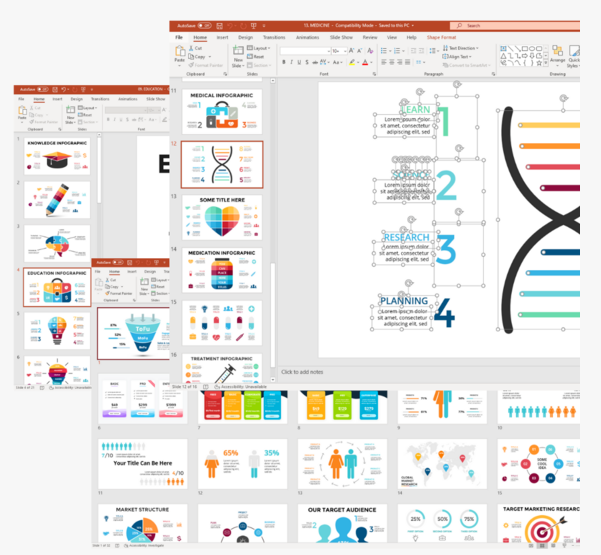 Having a well-designed PowerPoint presentation can make your content significantly more engaging for starters. The design ideas tool is certainly a useful PowerPoint feature that Microsoft Office provides, but you should consider downloading a stunning PowerPoint template to get the best results.
You might have included the most fantastic information in your PowerPoint, but your entire presentation loses value if your viewer doesn't look at each slide and engage with the content.
Shows Your Effort
When you have taken the time to use PowerPoint design ideas to spruce up your presentation, it shows your audience that you care.
Maybe you are completing a college assignment, and part of your grade is based on your presentation's design and slide layout?
Or perhaps you are presenting to get a promotion at work or a new job entirely, and you want to show the interviewees that you have taken time and care over your presentation?
Whatever the circumstances, utilizing the PowerPoint design ideas tab to get the best possible slide layout will only help your cause.
Supports Your Content
Implementing PowerPoint design ideas is also an excellent way to support your content. The PowerPoint design ideas button gives you access to design suggestions tailored to your slides' content.
The PowerPoint designer section uses algorithms to identify the best possible PowerPoint options and then shows them to you in the designer pane.
So regardless of what custom slide layouts you have opted for, you can be confident that the PowerPoint design ideas will suit those slide layouts.
Tells a Story
Finally, selecting the right PowerPoint designer from the design tab helps your information tell a story. Using PowerPoint design ideas will allow your words to come to life on the page and offer visual storytelling to accompany your information.
Using PowerPoint Designer is one of the easiest ways to make your presentation that little bit better. Just make sure you have a stable internet connection for it to work!
If you want to take your presentation to the next level, though, check out some of the incredible PowerPoint templates that you can access for free with your introductory offer!
How to Use PowerPoint Design Ideas: Conclusion and Takeaways
Now that you are a PowerPoint design ideas master, your next presentation will be more eye-catching than ever!
Here is a quick recap of the steps you need to take to implement Design Ideas on PowerPoint, or PowerPoint online:
Enable the design ideas tool by selecting Design, then Design Ideas on the ribbon.

Skim through your suggested design ideas and design trends from the right-hand side.

Choose the design you want, or dismiss the options and undertake your design process.
If you decide you want to change your PowerPoint design template, choose from one of the other design ideas from the pane, or revert to your blank slide.
Related Articles
3 Steps to Creating the Perfect Iceberg Template
How to Choose the Perfect PowerPoint Slide Size
Get A Free Sample of Our Award-Winning PowerPoint Templates + University
Join our mailing list to receive the latest news and updates from our team.
Don't worry, your information will not be shared.
We hate SPAM. We will never sell your information, for any reason.