Decision Tree PowerPoint Presentations: How to Use a Decision Tree Perfectly
Mar 05, 2022
A decision tree diagram is a powerful tool that can enhance almost any presentation if used correctly.
This article will explain a decision tree and how to use it to enhance your PowerPoint presentation.
Quick Summary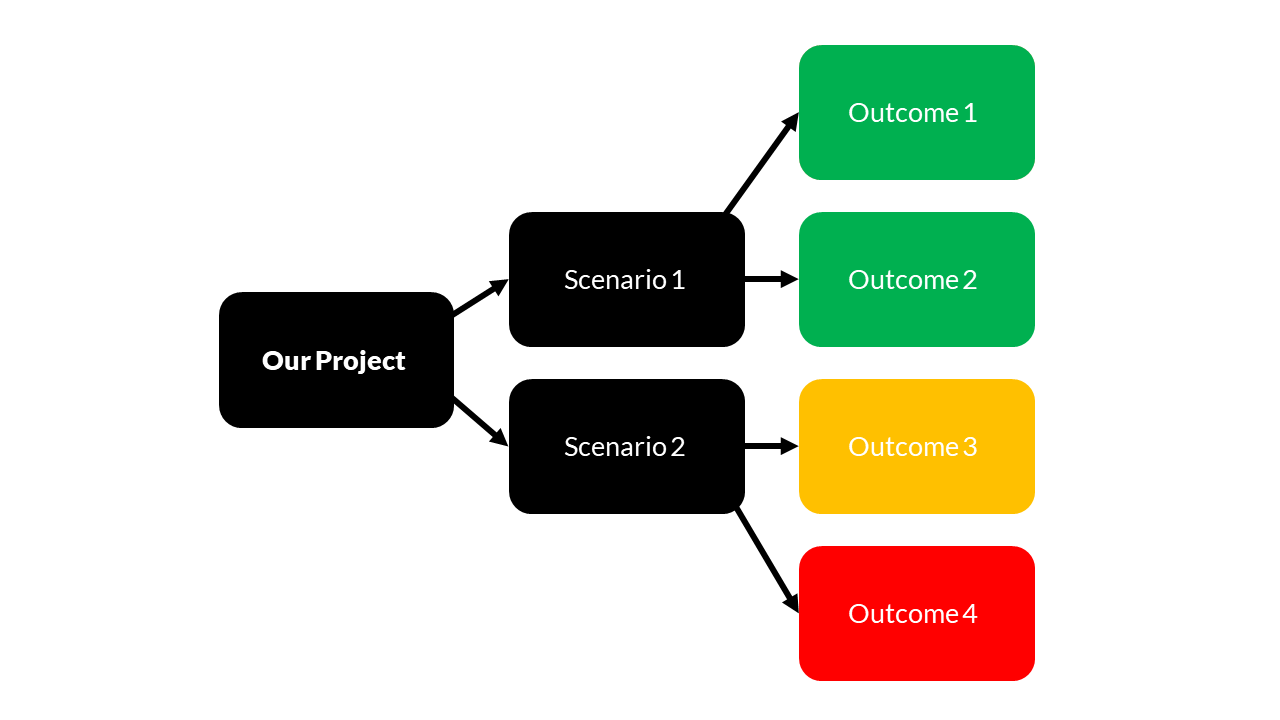 Step 1: What are you using decision tree diagrams for?

Step 2: Map out all the potential choices or actions

Step 3: Work out the decision criteria or possible outcomes for each action

Step 4: Review your decision tree PowerPoint template
Frequently Asked Questions:
What is a decision tree diagram?
A decision tree is a diagram shaped like a flowchart highlighting different outcomes based on certain decisions. It is often used as a decision-making tool or for planning and strategizing. They are popular because they are so easy to understand and follow.
Where can I find a decision tree PowerPoint template?
Simple Slides offer a range of decision tree PowerPoint templates that are fully customizable and editable, so you can be confident your decision tree PowerPoint template perfectly fits your content.
How do I make a decision tree in PowerPoint?
Creating your decision tree diagrams can be tricking, complex, and time-consuming. Rather than wasting time trying to design the perfect decision tree diagram template, use pre-made editable templates, and focus your time and effort on the content of your presentation.
How to use a Decision Tree Diagram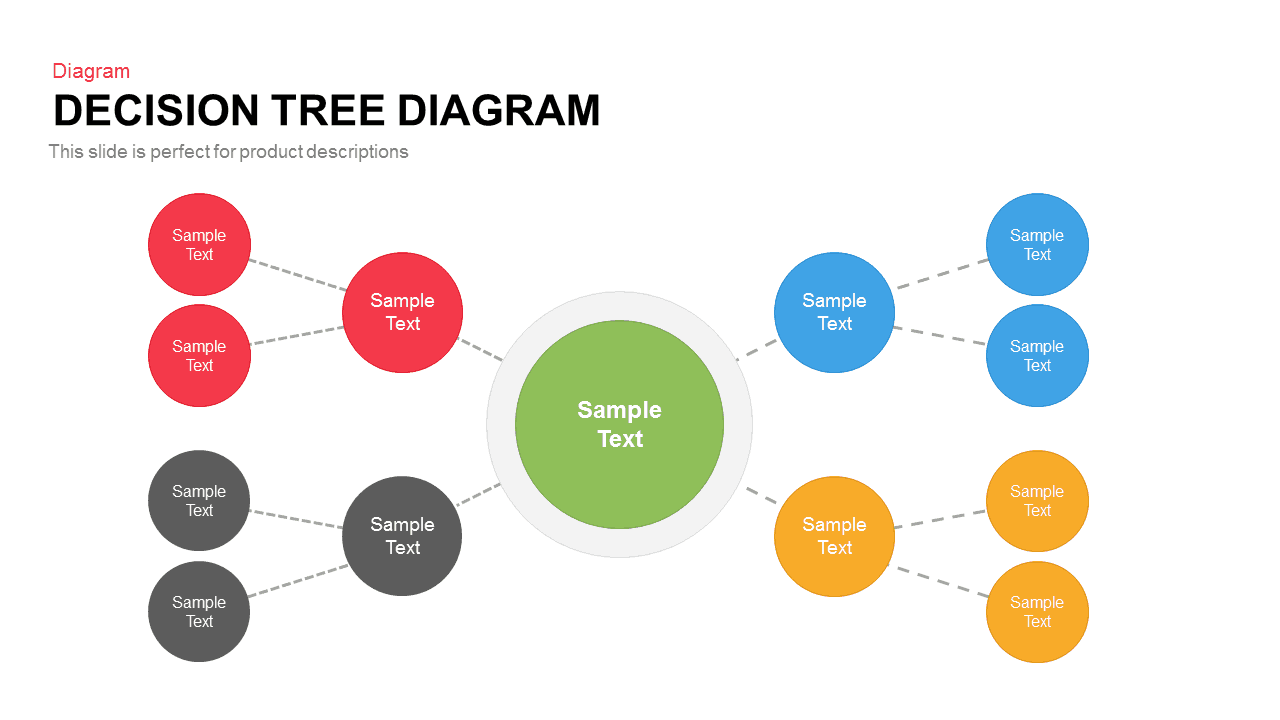 Step 1: What are you using a decision tree for?
As mentioned, a decision tree slide can be used for many different things within PowerPoint presentations. That is why before we go any further with your google slides or Microsoft PowerPoint presentation, you must decide what you want your decision tree slide to cover.
For example, are you using the decision-making process to find the right car to buy? Or maybe you are trying to decide between two different products?
Using a Simple Slides decision tree ppt template, you can edit all the elements you need to create your ideal tree diagram template.
Once you have decided on the purpose of your decision tree in PowerPoint, please note it somewhere, and begin mapping out your tree diagrams.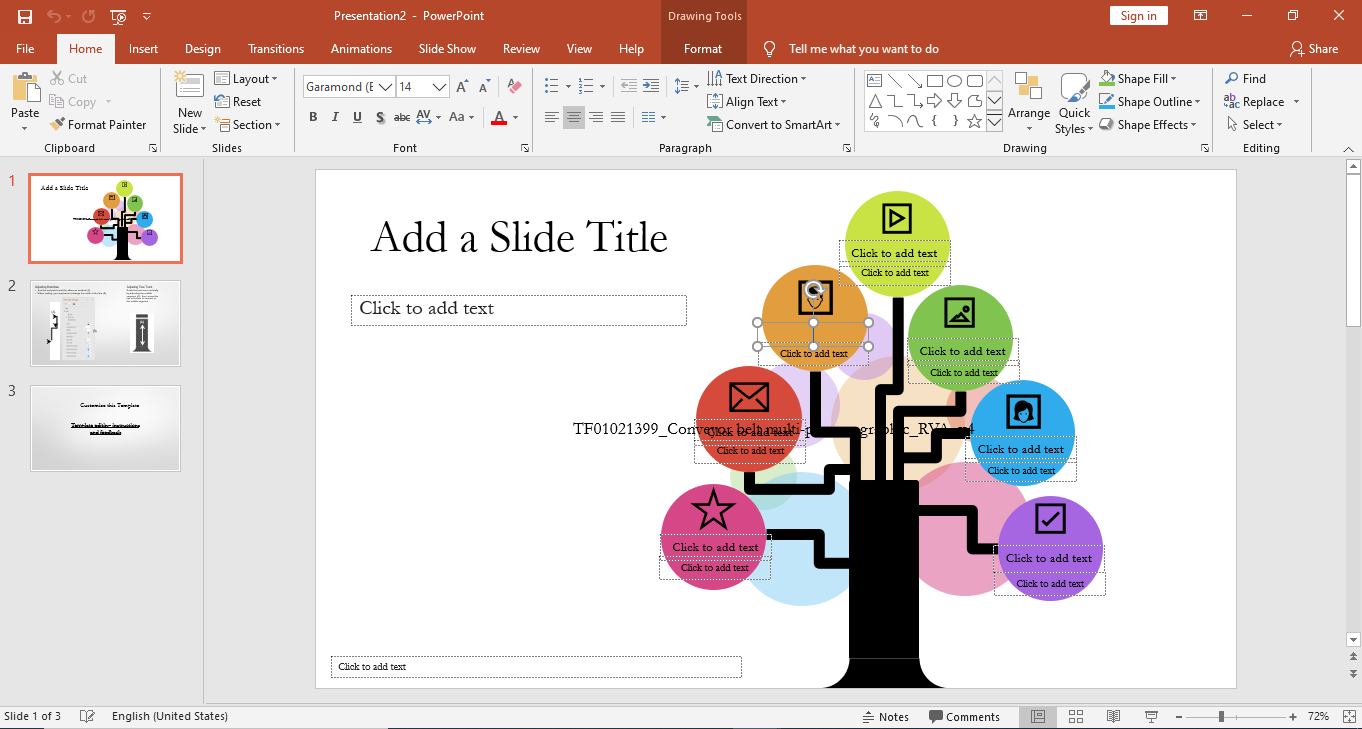 Step 2: Map out all the potential choices or actions
Once you have chosen your objective, the next step is to map out all potential choices or actions as part of the decision-making process.
When you create a decision tree, it is best to keep information to a minimum where possible.
Step 3: Work out the decision criteria or possible outcomes for each action
Now that you have mapped out your choices, you must determine each action's decision criteria or possible outcomes. This decision criterion is what you use to identify what decision should get made.
Remember, the purpose of decision trees is to lead you to the correct decision, so ensure that all of your decision variants are mutually exclusive.
Step 4: Review your decision tree
By this point, your decision tree is complete. However, that doesn't mean you shouldn't review your work and make sure it makes sense with leaf nodes, the root nodes, add branches, step by step guide for potential outcomes that the tree represents. You can use it on project development, particularly decisions for the possible outcome to help your business decisions.
Have you checked if other, more suitable PowerPoint templates exist for your decision tree?
Is all the information correct, and do the branches link up as you want them to?
Are there any spelling or grammatical errors?
Once you are happy, you have answered all these questions; all left is to present your results!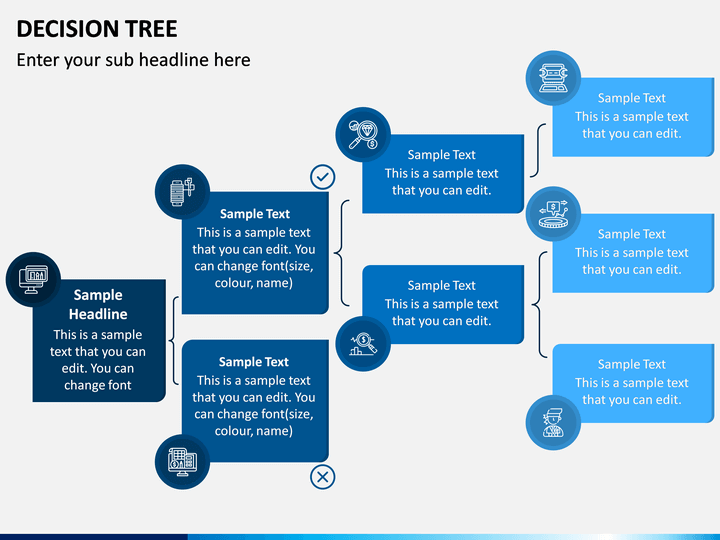 Ready to create your decision tree diagram?
Now you know everything you need to make the perfect decision trees for a presentation, it's time to put that information to work!
Focus your time on decision trees, and let Simple Slides manage the Microsoft PowerPoint templates. With fully editable and customizable decision tree PowerPoint templates, you can choose the perfect PowerPoint template for your project.

Related Articles:
5 Steps to Getting the Perfect PowerPoint Background
How to Use PowerPoint Design Ideas and How to Implement Them
Get A Free Sample of Our Award-Winning PowerPoint Templates + University
Join our mailing list to receive the latest news and updates from our team.
Don't worry, your information will not be shared.
We hate SPAM. We will never sell your information, for any reason.