How to Access Apple's Version of PowerPoint on Windows
Apr 04, 2023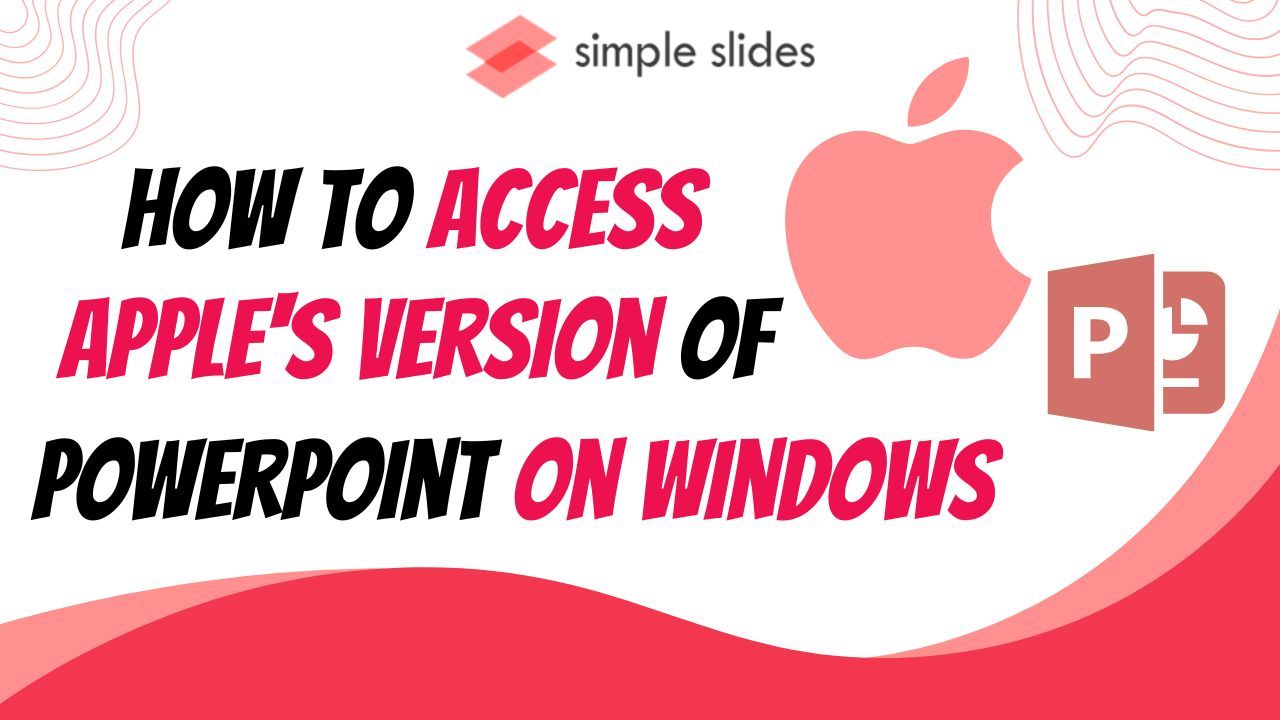 Do you want to know more about Apple's version of PowerPoint presentations?
If you're an Apple user, Keynote presentations are great for sharing ideas, data, and business meeting topics. On the other hand, if you're a Windows user, you likely found this article because you want to know more about Apple's PowerPoint counterpart. After all, Keynote has a clean user interface and an accessible toolbar. The good news is that you can still use Keynote on Windows with an iCloud account.
In this article, we will walk through the following:
What Is Apple's Version of PowerPoint?

Using Apple Keynote on Windows

Advantages of Using a Keynote Presentation

Frequently Asked Questions about the Keynote Presentation Software

What Is Apple's Version of PowerPoint?
Keynote is the Apple version of PowerPoint. Unlike Microsoft Office products, this presentation software is accessible for free on iPads and Mac computers. The Keynote app has several pre-designed themes and styles for presentations.
The Apple Keynote software also lets you customize and create charts and tables to organize your data strategically. You can find it in the App Store as part of the iWork productivity suite.
Using Apple Keynote on Windows
To use Keynote on your personal computer, you need to follow these steps:
In your Google Chrome address bar, type "icloud.com" (no quotes).

Click "Sign in" and enter your iCloud credentials.

Once your iCloud space opens, click the "App" button in the window's upper-right corner. Then, select "Keynote."

A tab for "iCloud Keynote" will open. Select a theme you want to use for your presentation and double-click it.

Once you've double-clicked the theme, you can create your presentation on Apple Keynote.
Note: The format options for the Apple Keynote are on the presentation's right side. You can choose background images, slide transitions, and export options for your Keynote slides.

Advantages of Using a Keynote Presentation.
The following are the key features available when using Apple Keynote:
It has a user-friendly and accessible interface.

It allows every iPhone/iPad, and Mac user to collaborate and edit one document in real-time.

It has excellent transitions and animation options.

It allows working on the same presentation file on multiple Apple devices.

You can easily convert your Keynote presentation into the PPT format.

It offers easy image importation.
Final Thoughts on the Apple Version of PowerPoint: Keynote Presentations
Unlike PowerPoint, Keynote is now widely FREE and available for Windows and Apple users. You can explore and use its unique data visualization features to captivate your audience.
If you want unique slides and infographics for your presentation software, visit Simple Slides and access 10,000+ PowerPoint and Google Slides templates. Subscribe to the Simple Slides YouTube channel for more presentation tutorials.
Frequently Asked Questions About the Keynote Presentation Software:
Can the Keynote presentation be available for everyone?
This Apple PowerPoint version is free and available to anyone with an iCloud email. You can use Keynote, especially when you have an Apple device.
Is there any other presentation app available?
Here are some of the best cloud-based presentation software options:
Google Slides
Canva
Prezi
Is Keynote better than Microsoft PowerPoint?
Microsoft PowerPoint and Keynote are effective presentation software applications, but their usefulness depends on an individual's needs and platform knowledge.

Related Articles:
PowerPoint vs. Keynote: Unbiased Comparison
What is the Keynote App? How to Use Apple Keynote on Your iPad or iPhone
Get A Free Sample of Our Award-Winning PowerPoint Templates + University
Join our mailing list to receive the latest news and updates from our team.
Don't worry, your information will not be shared.
We hate SPAM. We will never sell your information, for any reason.