Why Should You Use Communication Plan Templates
Apr 13, 2022
If done correctly, a communication plan will let you share information in an effective and timely manner with crucial stakeholders for any scenario. That could be a PR crisis, a new product launch, or anything.
A communication plan is an excellent tool for communication planning, project management, in-person meetings, and various situations.
Clear and concise communication will show team members their project roles, highlight a target audience, and guarantee that all parties agree.
It doesn't matter what the project is; a communication plan is vital to success. If done poorly, a lousy communication plan can derail an entire project and make it difficult to maintain control.
But that doesn't have to happen. Be sure to have a look at the Simple Slides communication plan templates. You will notice that they offer you completely editable project communication plans that will let you portray vital messaging and build the ideal strategic communication plan.
Frequently Asked Questions About Communication Plan Templates:
What are the main themes of a communication plan template?
An effective communication plan template's key aspects and themes include communication strategies, critical messaging, relevant information, a mission statement, and objectives.
How do you use a project management communication plan in Google Slides?
Each Simple Slides communication goals template is compatible with Google Slides, Keynote, and Microsoft PowerPoint.
Where can I find a project communication plan template?
Look no further! Simple Slides provide you with a range of communication plans to pick from, so you can choose the right project management communication plan to execute your communication methods and implement your project communication strategy.
The Benefits of a Good Communication Plan.
To clarify your goals and objectives.
Consider your plan as your roadmap. You are aware of the end location or objective, but you need to plan your route of how to get there and highlight potential obstacles along the way.
To clarify the relationships between audiences, messages, channels, activities, and materials.
Running through a communication planning process will allow you to work out who you want to reach, communicate what you want them to know, and how you will get that information.
Mapping out a communication plan will allow you to notice that every audience has unique motivations, needs, and characteristics. By utilizing a communication plan template, you will identify the most impactful way to communicate with them.
To identify and implement a variety of communications activities.
There are several ways to get your message across to your audience. Creating a communication plan will allow you to decide what activities you will engage in to ensure everyone pulls in the same direction.
To clarify staff members', stakeholders', and others' roles in the process.
Employees want to be aware of the contribution they will make to an organization and understand what aspects they are responsible for. A communication plan is an excellent way to map out people's responsibilities.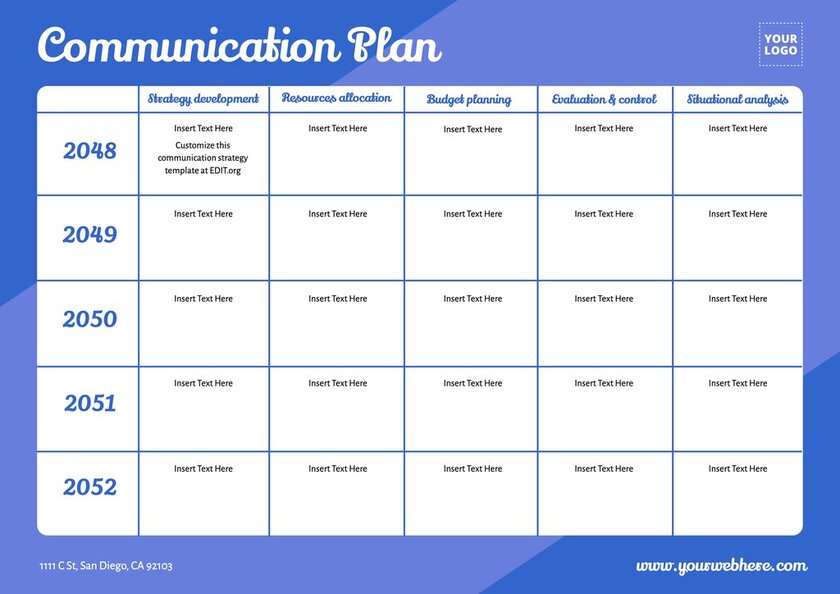 To develop creativity and camaraderie among your team.
Involving various staff members in planning is an excellent way to gain diverse thoughts and perspectives. Get stakeholders, staff members, interns, and anyone involved in your project management communication plan.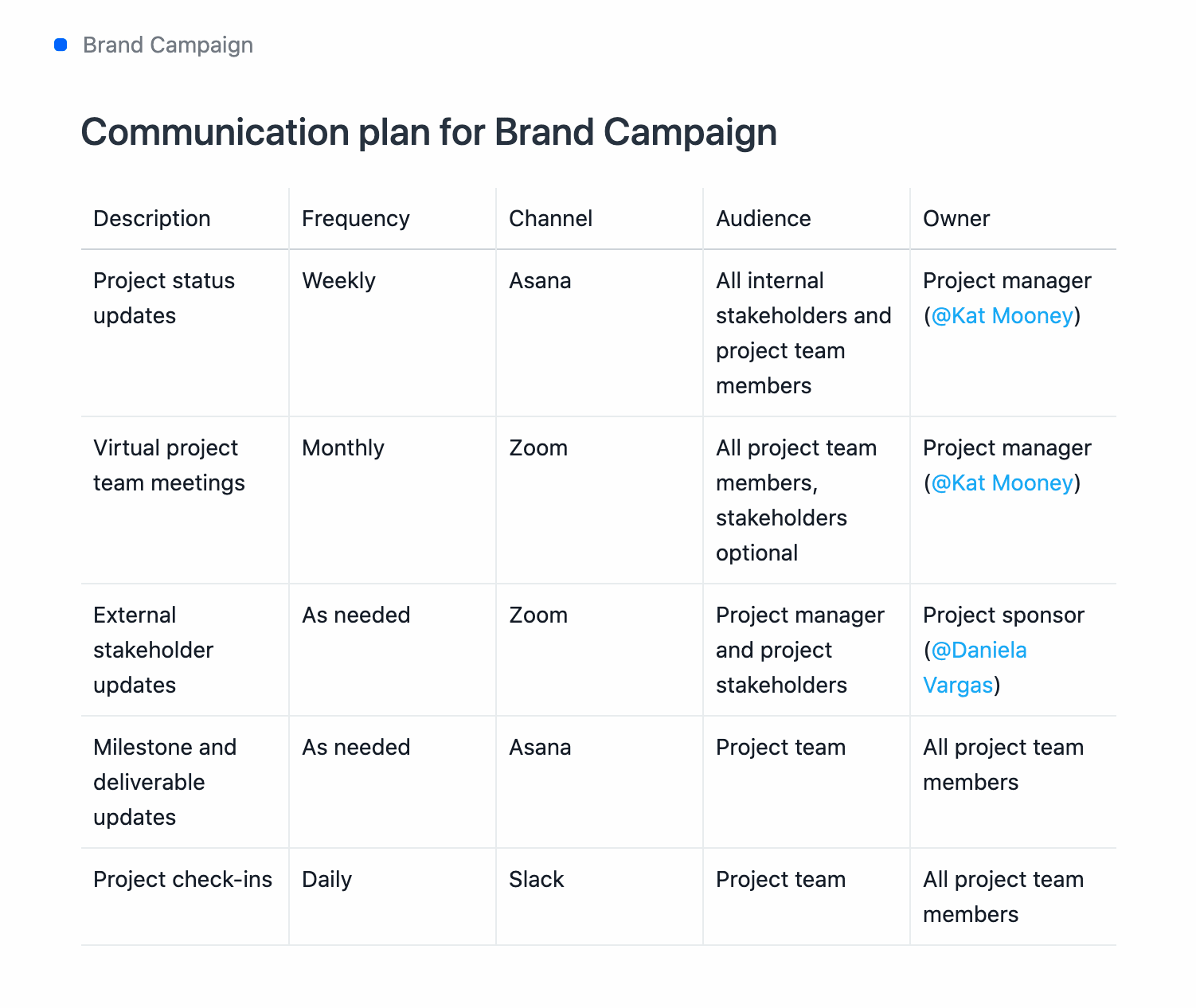 To help your staff members and stakeholders get on the same page.
A clear and concise communication plan will allow staff and stakeholders to get on the same page and communicate the same message across different platforms.
To include stakeholder input in the communications process.
Stakeholders are an essential aspect of any organization. It is imperative to show them how much you value their opinion. Including them in the communication plan creation phase is a great way to do this.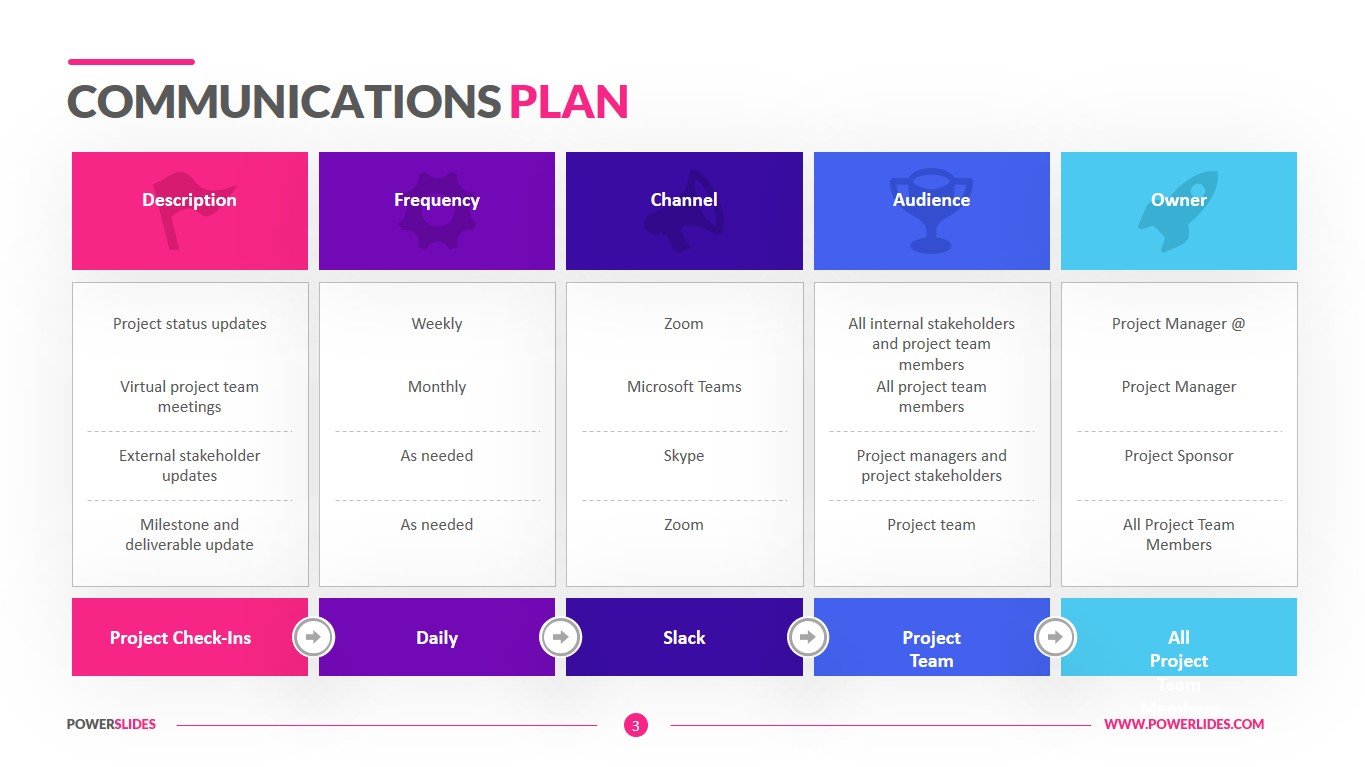 To allow everyone on your team to have a stake in your success.
Unsurprisingly, if a person is involved in creating a communication plan, they feel much more like part of the success when that plan comes to fruition.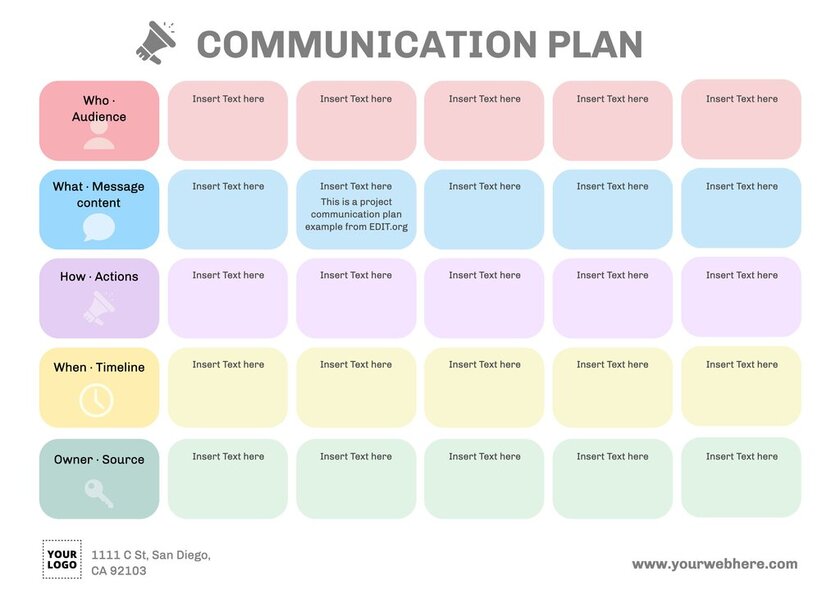 To gauge your plan's success and areas in need of strengthening.
Highly efficient organizations often like to do a review from time to time to determine strengths, weaknesses, and barriers they might be facing. From there, they can create new approaches.
You can create a customized evaluation strategy to garner the required information to improve your communication plan.
Related Articles:
How-to Guide: Update Your PowerPoint Master Slides
Get A Free Sample of Our Award-Winning PowerPoint Templates + University
Join our mailing list to receive the latest news and updates from our team.
Don't worry, your information will not be shared.
We hate SPAM. We will never sell your information, for any reason.