Google Slides vs. PowerPoint
Mar 30, 2022
Google Slides or PowerPoint? That is the question on everyone's lips.
Okay, maybe not everyone is talking about this, but it is an important question to address!
This article compares the two popular presentation tools in great detail to help you pick the best one for your needs.
What is Google Slides?
Google Slides automatically saves your work as you go within a presentation software that is completely free. Google Slides originated as just a desktop version, but you can now download a presentation app for your iPhone, iPad, or Android device.
There are several features that make Google Slides a unique and intriguing desktop software.
For starters, Google Slides works directly within your browser, unlike other software programs. You can access a google slide through the desktop software without any pesky downloads.
The Google Drive service is based on the cloud, which makes connecting and sharing your presentation incredibly easy.
Google Slides changes are also automatically saved as you go. You can create presentations with ease, not worrying about losing your work at any point.
What is Microsoft PowerPoint?
On the other hand, Microsoft PowerPoint is a robust tool for building professional presentations. Microsoft PowerPoint has been available since 1990.
PowerPoint software is also available offline if you do not have an internet connection, or you can use it via the downloadable app.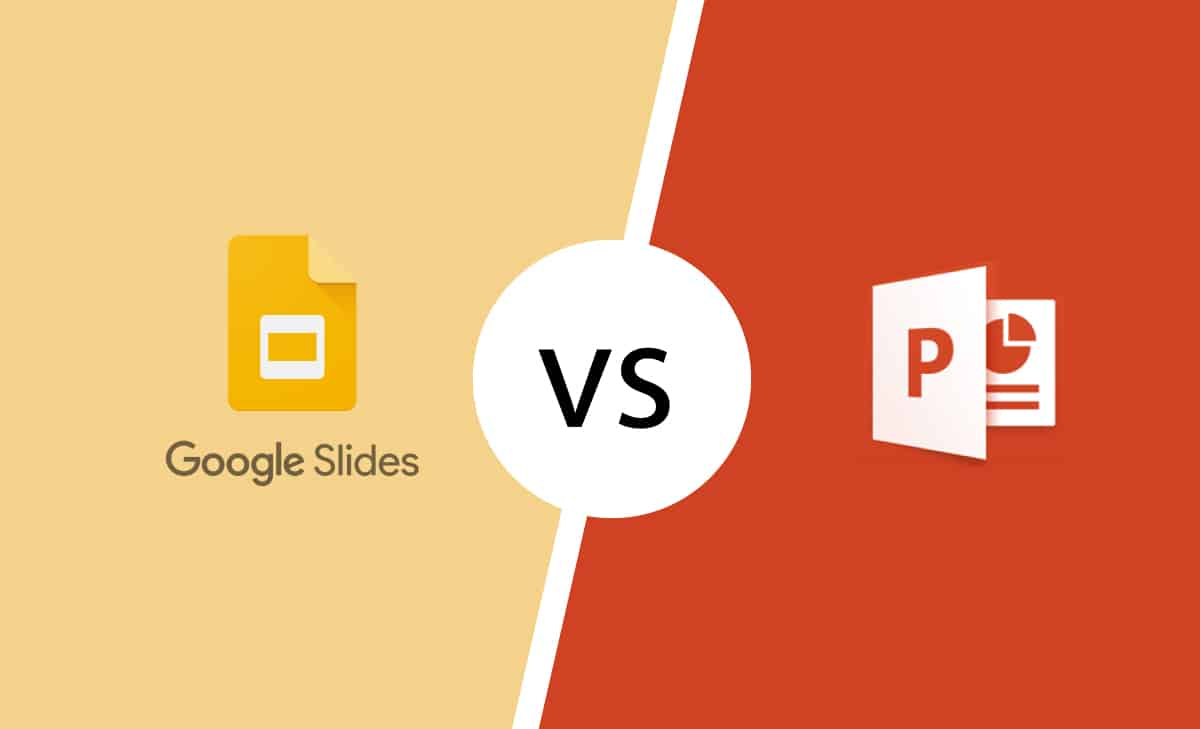 Features
Now that we have a good understanding of the basics of PowerPoint and slides let's start comparing specific features.
First of all, let's consider what each piece of software allows us to achieve. Slides and PowerPoint both allow you to:
Inset text, images, links, and videos to any slide

Select a custom font

Use a premade theme *Check out the Simple Slides library for an incredibly designed theme)

Insert charts and or graphs

Print to PDF
Slides Feature: Automatic Saving
Slides offer users a fantastic automatic saving feature, which occurs after every single change you make. So you don't need to panic about losing your work due to an issue or a miss click.
Slides Feature: Version History
Another excellent feature on offer is the extensive version history on offer. You have the power to easily and quickly restore your slides back to a previous version if needs be.
Slides Feature: PowerPoint Compatibility
The third and final great feature offered on Slides is how easy it is to use with PowerPoint. You can export your Slides doc as a PowerPoint file or import a PowerPoint file to use in Slides.
PowerPoint Feature: PowerPoint Designer
PowerPoint designer offers users suggested designs for their slides, and if only available on PowerPoint.
When you paste an image onto your slide, the software will offer you a range of pre-designed slides to choose from.
PowerPoint Feature: Broadcast Live
Another unique feature available on PowerPoint is the option to share your slideshow with anyone online in real-time.
You can create a browser link that allows anyone to see your presentation as you are presenting.
PowerPoint Feature: Presenter View
The final PowerPoint feature of note is Presenter View. This tool allows you to project your slides onto a second screen, which lets you present to an audience while also having eyes on your speaker notes.
Cost
Now let's focus on the cost of each software and see who wins the Google Slides vs. PowerPoint battle here.
Google Slides Cost
For starters, Google Slides and Google Drive are free services. There is no requirement to pay for these tools. All you require is an account with Google to access Google Slides and Google Drive.
PowerPoint Cost
PowerPoint is bought as part of Microsoft 365m, and the fee starts from $6.99 per month, depending on what features you choose.
Not to mention that this purchase comes with no additional storage. It is worth remembering some of the excellent features PowerPoint offers its users, but there is a significant difference in cost between slides and PowerPoint.
Online vs. Offline Performance
Another aspect to consider in the Google Slides vs. PowerPoint debate is how they stack up with offline and online performance.
There are some differences between presenting online and offline regarding Microsoft office and Slides.
Google Slides Performance
The main focus of Google Slides performance is online. The cloud-based app was created for excellent online performance, and it does not disappoint.
Originally, Google Slides was online available as an online version, but over time it has invested in the Google Slides Offline service.
It can be accessed from the Chrome browser extension and is also available for Android, iPhone, or iPad.
PowerPoint Performance
Microsoft Office programs have a range of online accessibility choices, including Office 365. You can also access PowerPoint via the online web app, where no software installation is required.
Moving away from PowerPoint online and focusing on offline performance, Microsoft PowerPoint offers a strong offline offering as part of its desktop version.
Teamwork & Collaboration
Collaboration is essential to consider when choosing the right presentation software for your needs. The option of working on projects as a team is a necessity for businesses.
In this section, let's look at Google Slides vs. PowerPoint from a teamwork and collaboration perspective.
Google Slides
Teamwork and collaboration are one of the best aspects of Google Slides. The tool is created in a way that allows for seamless collaboration.
Multiple users can edit or add comments within the presentation software, and the changes will show up instantly.
For team members that work alongside each other on a Google Slides presentation, each member will need a Google Account.
PowerPoint
Collaboration is possible on Microsoft PowerPoint presentations as well, but it needs to be set up in advance.
To make sure a PowerPoint presentation is editable, it must be uploaded to SharePoint Online or OneDrive.
Someone is then required to add collaborators by sending them an email. If any changes are made from a user who is not logged in, a notification will send highlighting that changes have been made.
Storage & Backup
Crafting the perfect presentation is hard work. So when you see that horrible error message pop up, it can be incredibly disheartening.
To prevent heartache, Slides and PowerPoint both implement backup features that allow you to restore a recently saved version of your slides and save you hours of time.
Slides
Each Google Drive account comes with 15 GB of storage at no extra cost.
With regards to backup options, Slides stores all of your data on the cloud, so you don't have to keep hitting the save button.
Slides also offer a useful version history for you to explore and restore if needed.
PowerPoint
As PowerPoint was built to work on desktops primarily, each presentation is stored straight onto your PC.
However, you can also store them on the Microsoft Office OneDrive, which is a cloud storage solution built to rival Google Drive.
However, you will need a Microsoft 365 account, and it only offers 5GB of storage per account.
Embedding
Embedding audio and visual segments are essential for any highly skilled presenter. Therefore, let's see how Slides and PowerPoint match up in this criteria.
Google Slides
On Google Slides, you can embed videos from a Google Drive or YouTube account. Unfortunately, you cannot store standalone audio in your presentation.
One of the significant bonuses of working on Slides is how simple it is to embed videos. It is also extremely easy to upload photos from various places.
PowerPoint
Within the PowerPoint presentation program, media content is simple to embed within your slides. You can easily embed video and audio files.
When you add audio or video content to your One Drive account, it is even easier to embed content on PowerPoint.
For more advanced users, you even have the option to draw your own animations!
Should You Use Google Slides or PowerPoint?
As you can see, both PowerPoint and Google Slides have strengths and weaknesses. Whether you choose, Google Workspace or Microsoft Office software will depend on your specific needs.
For example, Google tools such as Google Sheets, Google Docs, or Google Slides allow for real-time collaboration, perfect for any team working on a project together.
Similarly, working on PowerPoint files could be a better option for anyone who prefers to work offline or doesn't always have access to an internet connection.
As far as choosing between PowerPoint and Google slides, it ultimately depends on how you want to design your presentation.
Luckily, Simple Slides offers a range of templates that you can use on both software programs, so you don't have to pick your favorite just yet!
Get A Free Sample of Our Award-Winning PowerPoint Templates + University
Join our mailing list to receive the latest news and updates from our team.
Don't worry, your information will not be shared.
We hate SPAM. We will never sell your information, for any reason.