Easy Guide on How to Use Google Slides in Chromecast
Jun 23, 2023
Do you want to learn how to present Google Slides on Chromecast?
You've probably heard that larger monitors can improve productivity. What if we tell you you can present Google Slides on Chromecast? Today, we'll show you the steps.
In this blog post, we will discuss the following:
What is a Chromecast?

How to present Google Slides on TV using Chromecast

Frequently asked questions about using Chromecast devices for Google Slides.

What Is Chromecast?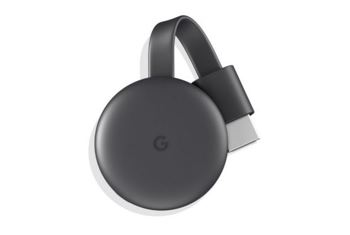 Chromecast is a streaming dongle device launched by Google in 2013. It lets the users play any online content, such as music, movies, and videos, on a smart television.
This dongle is connected to the TV's HDMI port to add smart functions. In 2016, Google introduced Chromecast Ultra, which supports Ethernet to provide the latest in-demand online streams.
How to Present Google Slides on TV Using Chromecast
To present your Google Slides presentation on your TV, follow these steps:
Ensure your Chromecast device is connected physically to your TV. Moreover, it should be on the same Wi-Fi network as your computer or mobile device.

Open your Chrome browser on your computer or mobile device. Click the "Google Apps" icon and select "Google Slides."

From your Google Slides tab, select an existing presentation you want to cast to your TV.

Once you've opened the specific presentation, press Ctrl + F5 to present Google Slides.

When your presentation slides are in full-screen mode, click the three vertical dots at the upper-right corner of your Chrome browser.

Once the drop-down menu appears, select the "Cast" option.

When the "Cast tab" window opens on your screen, select the device where you want to cast your presentation.

Once the existing presentation is displayed, you have successfully cast Google Slides on your TV.

Final Thoughts on How to Chromecast Your Google Slides Presentation
By learning how to present Google Slides in Chromecast, you can use a larger monitor for your presentation.
If you need unique and compelling Google Slides and PowerPoint presentations, check out over 10,000 customizable templates on Simple Slides. Subscribe to the Simple Slides YouTube channel to watch presentation tutorials for free.
Frequently Asked Questions About Using Chromecast Device for Google Slides:
What is a Chromecast device?
A Chromecast device is a streaming media adapter designed by Google. It offers people a way to play any online content on television. All you need to do is plug the dongle into the TV's HDMI port.
Does Chromecast device work on any TV?
With an HDMI connector, Chromecast devices can stream movies and series to any TV. Also, it requires any television that has an HDCP (High-bandwidth Content Protect) 1.3 or a higher built-in.
How can I connect my Google Chromecast to WIFI?
Visit Chromecast.com/setup after you pug-in your device. Click "Install" and connect your device to your WIFI. Then, in an app with cast support, click the Cast button.

Related Articles:
5 Easy Steps to Change the Image Opacity: Google Slides
How to See Word Count on Google Slides in 2 Ways
Learn How To Add a Border On Google Slides In 7 Simple Steps
Get A Free Sample of Our Award-Winning PowerPoint Templates + University
Join our mailing list to receive the latest news and updates from our team.
Don't worry, your information will not be shared.
We hate SPAM. We will never sell your information, for any reason.