What Is a Pest Analysis and How To Use It
Oct 03, 2022
The ability to identify change and adapt to it is an essential trait of successful businesses. As a business owner, you should always search for new trends in your business environment to remain competitive.
You control internal factors such as the price of your products, your employees, the materials you purchase, etc. But how do you control external factors that are beyond your control?
Business leaders rely on PEST analysis to identify and control the external opportunities and threats that can affect their business. We will tell you all you need to know about PEST analysis and how you can conduct one.
What Is PEST Analysis?
PEST stands for politics, economy, society, and technology. Hence, PEST analysis is a tool that allows businesses to assess these external factors.
Businesses use it to study their market and make changes according to the current trends. You may encounter a similar strategic planning tool known as PESTLE analysis. PESTLE analysis is a variation of PEST analysis that includes legal and environmental factors.
What To Include in a PEST Analysis?
A PEST analysis focuses on four factors that include:
Political Factors
The letter "P" In PEST represents politics, and this is where you search for political trends that can impact your business positively or negatively. A new legal or government policy can alter your business's profitability and operation.
Some laws and regulations will affect all businesses, while some will only affect a particular industry. Here are some examples:
Tax laws

Upcoming elections and the ideology of the candidates

Environmental laws

Tariffs

Employment laws

Import restrictions

Property rights
Do you need a template to visualize your business growth plan? Download this business growth plant template.
Economic Factors
The letter "E" in the PEST analysis represents the economic environment. The economy determines the spending habit and power of your customers, so you have to look at it closely.
Study the economic trends and try to predict how they might change. Though the economy can be challenging to predict, these are some trends you should check out:
Inflation

Employment rates

Exchange rates

Cost of living

Labor costs

Access to credit

Interest rates

Taxation

Economic growth
Social Factors
The letter "S" stands for socio-cultural factors, and this is where you examine your target demographics. It will help you understand the demands of your target customers and how you can pull them towards your products and services.
Examples include:
Age distribution

Generational changes

Population growth rate

Diversity

Immigration rate

Productivity

Level of education

Consumer lifestyle
Technological Factors
The influence of technology on businesses has grown stronger over the years. To stay competitive, you must quickly adapt to new technological trends.
Think of the technology you use for your business and those that can affect it. An example of the effect of technology on business operations is the massive shift to remote work since the Coronavirus pandemic. Below are some technological factors to examine:
Access to new technology

Technological evolution

Workforce's handling of technology

Competitor's use of technology

Effects of new technology
This is the best stage-gate process template!
How To Make a PEST Analysis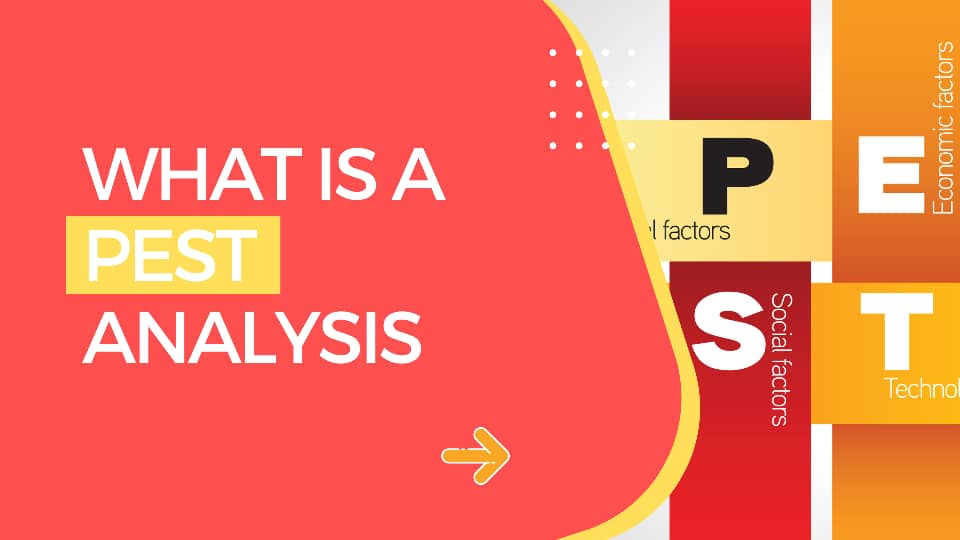 Start your PEST analysis by designing a chart with four sections representing the four elements of PEST. We recommend that you split each section into two as this will allow you to analyze the opportunities and threats relating to each factor separately.
If you have a team, you should work together to identify potential threats and opportunities that you can find in each section. We have given you ideas of questions you should ask.
Once you have analyzed the opportunities and threats, it is time to get to work. Use the information you have gathered about your business environment to take advantage of opportunities or minimize risks.
Save time with our project management template.
Advantages of Using PEST Analysis
PEST analysis helps businesses in several ways. Here are some examples:
It helps to identify threats and opportunities

It will help you make fact-driven decisions

It shows the bigger picture

It will make you more competitive

It will help you grow in the right direction
Download a PEST Analysis Template From Simple Slides
Designing a PEST analysis chart from scratch can be time and energy-consuming. Fortunately, you can download a professionally-designed PEST analysis template from us to save yourself all the trouble. Take advantage of our free trial to get it for free.
Frequently Asked Questions
What is the goal of PEST analysis?
PEST analysis helps businesses to analyze the political economic social and technological factors affecting them.
Which is better PEST analysis and SWOT analysis?
PEST analysis focuses on the business environment, while SWOT analysis places more emphasis on the business itself. Hence, you should combine these business analysis tools.
When should I do a PEST analysis?
Do a PEST analysis when starting a new business or moving in a new direction. You may also do it when you notice a change in your business environment.
Related Articles
Get A Free Sample of Our Award-Winning PowerPoint Templates + University
Join our mailing list to receive the latest news and updates from our team.
Don't worry, your information will not be shared.
We hate SPAM. We will never sell your information, for any reason.