The Benefits of Using Business Templates | A Beginners Guide
Business templates, mostly used by proposal and development teams, often encourage efficiency, repeatability, and company growth. They're a way to display information such as
product statistics, business plans, annual reports, and much much more.
Every day, numerous templates are designed are created by offices around the world. It's proven that when you use the right business templates, your employee productivity can
dramatically increase. But why else should we use them? What other benefits do they bring to our company?
The Benefits of Using Simple Slides Business Templates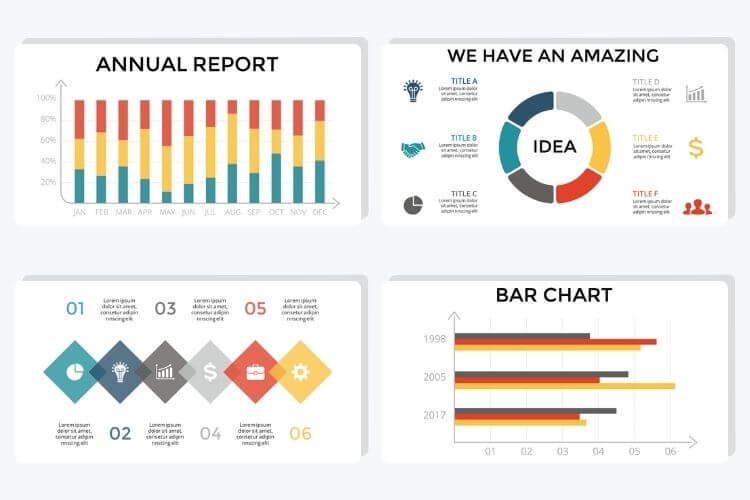 As business templates take time to build, it's easy for companies to wonder whether or not they're worth the investment. Want the short answer? Absolutely. Once a template is built, editing takes far less time than continuously starting and designing from scratch. It's the difference between re-designing a whole page, or just typing in exactly what you need.
With our ever-growing collection of business templates, Simple Slides offers you and your company a way to truly stand out, along with businesses witnessing company growth. But what else do they offer? Let's find out.
Business Templates Save You Time
By using a ready-made business template, you'll save a lot of valuable time that could be more meaningful elsewhere. They allow you to focus on other business-related matters of more importance. Simple Slides make it incredibly easy for you to input all of your relevant information into your template within minutes. Allowing you to create a finished business template that you can send, share, and present, with ease.
You'll Notice a Reduction in Errors
Did you know that the average American worker makes around 118 mistakes per year? Let's face it, everybody screws up, everybody makes mistakes; we're only human, right?
While most mistakes are harmless, some can cause serious disruption and can even affect company growth. Most of the time, we make mistakes when we're bored. When given the endless tasks of constantly having to create templates, it can cause you to make mistakes by trying to just get it done, take your motivation away from closing that sale, or mess up your presentation by designing instead of sitting and thinking about what you need to talk about when actually presenting.
Simple Slides to the rescue! When you use our business templates, the days of boredom in creating templates will become a distant memory. With the option to choose from up to 15 genres of business templates, you'll be able to prevent any mistakes from happening, and focus on what really matters.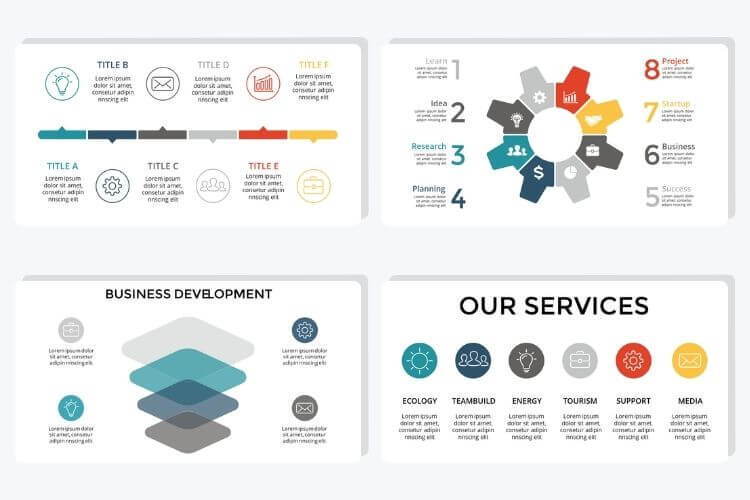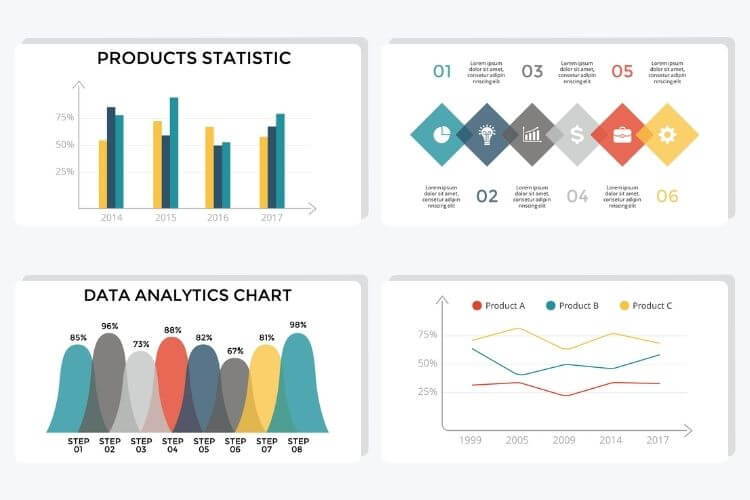 You're Able to Uniquely Customize to Match Business Needs
Simple Slides business templates are paramount to your business success. When you start with a well-made professional template, you already have the basis for a document that will make an impression. However, when you add your own personal touches to your business template, you're able to create a masterful, beautiful document that is completely unique to you and your business. Simple Slides templates can be suited to your whims and become something truly special. They allow you to add anything you feel will improve your presentation, and increase your chances of success.
We at Simple Slides have created a wide variety of business templates in order to fulfill a very distinct need within the business community: the need for an extensive catalog filled with templates like business models, ideas, plans, pitch, and many many more!
All of our templates are extremely polished, professional, and adhere to the highest standards of the business world. With our ever-growing collecting of templates for all things business, Simple Slides offers you a way to truly stand out from the crowd, and gain success.

Everything in Premium + Our University
$99
New Slides Monthly
(One Time Fee)
10,000+ PowerPoint Slides (with Updates!)

201+ Lectures ($299 Bundle Savings)

16+ Hours of On-Demand Video

Animated Presentations Course Upgrade

Premium Font Pack ($99 Value)
10,000+ Slides & Lifetime Updates
$49
New Slides Monthly
(One Time Fee)
10,000+ PowerPoint Slides (with Updates!)

FREE Monthly Slide Updates ($999 Value)
$29
No Updates
(One Time Fee)
10,000+ PowerPoint Slides (no access to updates)
100% Money Back Guarantee

We are so confident that our 10,000+ graphics & slides offer everything that you need. We offer a full 100% money back guarantee with 7 days of purchase.
All we ask is that you provide proof our product is not working or is giving you technical issues, then we will refund your money immediately.